This page is part of the homeplace advertisement-free web portal. (It is politics-free too, except for 3 sections which are obviously not.)
Construction of this page began in January 2006 as I began to document my dread fear that the US would attack Iran with nuclear weapons!
On this page you can find:
How, for years, the US has been renaming laboratories, changing policy documents, and preparing the public for the 'tactical' use of nuclear bombs.

The reasoning that even the largest conventional bunker busters would not suffice to wipe out Iran's nuclear program.

Evidence that nuclear bunker busters CANNOT bury their radioactivity like an underground nuclear test.

Explanation of why our Navy may suffer huge losses from anti-ship cruise missiles.
In addition, there is small fraction of the large pile of available information supporting the following assertions:
Neocons and the Israel Lobby want an attack on Iran.

Propaganda is villifying Iran.

The US needs to attack Iran to defend the dollar.
You are not entirely helpless to speak out against an attack on Iran:
for example, you can go to
to express yourself. (The site http://www.isirannext.org/ has evidently become inactive.)
Here is the geography:


Here is an Encyclopedic summary of the Nuclear part.
This blogger has used extensive references into WikiPedia. His encyclopedic summary looks pretty balanced.
And here are the Chronological Postings.
(At the bottom of this page are the earliest items.)
2004 Prosecute our Scientists for Collaboration?!
In 2004 the US government tried to ban every American scientist on the planet from having anything to do with any Iranian research, threatening to prosecute individual scientists for "collaboration" with Iran if they did so. The ban was openly repudiated by the American Institute of Physics and other groups, saying it violated freedom of speech, and the scheme was essentially dropped in favor of a toned down version.
2010 Aug 8 – Let's talk about an attack on Iran
The United States could "win" by dropping hundreds of nuclear weapons on Iran's military bases, nuclear facilities and industrial centers and killing 5 to 10 million people, but short of that, nothing works.
The end would be an embarrassing retreat by the United States, and the definitive establishment of Iran as the dominant power of the gulf region. That was the outcome of every war game the Pentagon played, and Mullen knows it.
So there is a plan for an attack on Iran, but Mullen would probably rather resign than put it into action. It is all bluff. More.
2010 Feb 13 – Israel Encouraged to Use Nuclear EMP to Disable Iran
In 1962 the U.S. conducted an atmospheric test called Starfish Prime. In it, a 1.4 megaton weapon was detonated 400 kilometers above Johnson Island in the Pacific. The electromagnetic pulse (EMP) from that test knocked out street lights in Hawaii, 900 miles away! The Soviets held similar tests and discovered EMP effects can penetrate far underground.
"If Israel used one of its Jericho III missiles to detonate 400 kilometers above north central Iran there would be no blast or radiation effects on the ground. In fact, if the strike was at noon on a sunny day the people below would not know it happened except their lights would go out, cars stop, fridges die, power line transformers short out, refineries shut down, and yes, those uranium enrichment centrifuges in caverns stop spinning. This bloodless annihilation, coupled with a selective cyber attack, would freeze Iran for decades." More.
2009 Sept 27 - B-2 with Bigger Bunker Busters - Soon
"The Pentagon has brought forward to December 2009 the target-date for producing the first 15-ton super bunker-buster bomb (GBU-57A/B) Massive Ordinance Penetrator, which can reach a depth of 60.09 meters underground before exploding."
Earliest date for the accelerated Pentagon program to produce a super bunker buster bomb mounted on a stealth bomber is December 2009 or January 2010. "This ... is three years ahead of its original schedule." [ahead of its most recent original schedule maybe!]
The report .
By comparing to the 2007 July 26 report item, below, it seems that virtually no progress has been made in the last 2 years on fitting a B2 to carry these MOPs.
20081029 The US and EU Have Stopped Attacking Iran
Why are oil prices dropping this season? It is ... simple: the US and EU have ceased attacking Iran. The threat of war is rapidly fading there. The US is confining its attacks to Pakistan and Syria, non-oil nations. It is leaving the Persian pussy alone. The guys at the top know perfectly well, if they make oil expensive right now, the global economy will continue to collapse. So they are tweaking foreign policy statements and actions to create the illusion of peace.
If the price of oil drops below $50 a barrel, expect more wars in the Middle East. Excerpted from this.
20080902 Israel within Georgia
According to the source http://washingtontimes.com/news/2008/sep/04/israel-of-the-caucasus/ for the below, there is a Tel Aviv-Tbilisi military axis which has been agreed to and is supported at the highest levels within Bush administration.
Georgia's Defense Minister Davit Kezerashvili is a "former" Israeli. [Israel allows dual citizenship.]

Georgia's Prime Minister Vladimir Gurgenidze asks for the blessing of Rabbi Aaron Leib Steinman.

Israel began selling arms to Georgia seven years ago: U.S. grants facilitated these purchases.

In a secret agreement between Israel and Georgia, two military airfields in southern Georgia had been earmarked for the use of Israeli fighter bombers in the event of attacking Iran. To reach these Georgian airstrips, the Israeli Air Force (IAF) would fly over Turkey.
20080815 Iraqi Shi'ite assassination teams being trained in Iran - AP
Training done at 4 or more locations in Iran

Training done by Tehran's elite Quds force and Lebanese Hezbollah

Reported by AP, here
20080804 Iran Tests Anti-Ship Weapon With 300-Kilometer Range
For the significance of this, see See 2004 Oct 26, below. See also paragraphs 6 through 9 here. Note that the 300 Km range is a strong hint to the US and Israel that this is a Yakhonts-class rather than a Sunburn class missile. Though it's hard to find current information concerning this ship vs. missile arms race, this article, updated in April 2008, surveys vulnerabilities of U.S. Aircraft Carriers.
2008 July – False Flag Attack By Israel Possible, to Incite US Attack on Iran
2008 July 10 – Israeli Planes use US bases in Iraq
During June and July, Israeli war planes have landed and taken off from US military airports within Iraq. More.
2008 June 29 – Bush Administration steps up its secret moves against Iran
Top journalist Seymour Hersch - latest report here.
2008 May 20 – Fallon Could Possibly Prevent This Catastrophe
A final desperate appeal to ousted Commander "Fox" Fallon (see below – March 12 2008) here.
2008 April 30 – Bald Truths
Almost the only source which will leave the English-speaker with a deeper understanding of the U.S. animus toward Iran writes again on this subject. Not for readers with a queasy stomach!
"Iran is moving ahead in its quest to conquer US/UK/Israeli power by selling power. And they will succeed."

"The only way the empire can stop the Iranians is to blow up all of Iran in a brutal excess of imperial rage. This will start WWIII, of course. So it should be avoided. "

"India is happy to have the Sunni Muslims neutralized by the Shi'as. This creates a balance of power. After all, the Shi'as don't attack India, the Sunnis attack India!"

"We lost the economic war. Now, we plan to lose the military war. No nation sinking into debt ever wins wars."
Full article here. Refreshing? See this. (This is an example item from the other source, alluded-to above.)
2008 April 21 – Stuflebeem Out
On April 21, 2008, the US Navy announced that Stufflebeem had received a written reprimand and had requested to retire from active duty. Stufflebeem was Commander of the 6th Fleet (Mediterranean Sea) prior to his demotion on March 21, 2008. He was known to be a critic of the administration's war plans.
2008 March 20 - US Declares War on Iran
Asserted:
On March 20, 2008 the US officially declared war on Iran. Economic War.

The Financial Crimes Enforcement Network (FinCEN) within US Treasury Department is in charge.

Iran is said to lack a comprehensive anti-money laundering and combating the financing of terrorism (AML/CFT) regime.

When the history of this newly declared war is someday written (assuming the war is allowed to proceed) FinCEN's role will be as important as that played by US Central Command (CENTCOM) in directing the wars in Afghanistan and Iraq.

Iran will suffer a kind of economic Shock and Awe reducing it to a status similar to Gaza or to Iraq under the economic sanctions of the 1990s.

That Iran's complete financial and economic destruction is the goal of US policy was spelled out by the State Department the day before the FinCEN announcement.
2008 March 12 - Top U.S. Commander in Middle East Resigns
Adm. William Fallon, described as the only man standing between the Bush administration and war with Iran was allowed to retire March 11.
2007 December 3 - Finally, A Voice of Reason!!
A day after the new National Intelligence Estimate on Iran "so completely, so suddenly, and so surprisingly altered a foreign policy debate" President Bush said that "our policy remains the same".
John R. Bolton, Bush's former ambassador to the United Nations dismissed it by terming the NIE "this week's intelligence".
But the fact is that the main argument for a military conflict with Iran has been invalidated.
Invalidated by the coordinated judgments of the US Intelligence Community made up of 16 intelligence agencies. Reference.
2007 October 25 - Russia Asserts Hegemony - Again
Putin: "Running around like a madman with a razor blade, waving it around, is not the best way to resolve the situation."
2007 October 19 - Military Resistance Forced the new Iran Strike Posture
Some time ago the Bush administration shifted from the military option of a massive strategic attack against Iran to a surgical strike option against selected targets associated with the Islamic Revolutionary Guard Corps (IRGC).
This was prompted not by new alarm at Iran's role in Iraq but by the explicit refusal last December of the Joint Chiefs of Staff to an unprovoked attack on Iran's nuclear facilities!
The reorientation of the military threat was first publicly signaled in Bush's Jan. 10 speech. Buried in the troop "surge"speech were accusations that Iran was "allowing terrorists and insurgents to use their territory to move in and out of Iraq" and "providing material support for attacks on American troops."
The Joint Chiefs were later joined in opposition by Admiral William Fallon, the incoming CENTCOM commander.
Fallon had indicated privately that he was determined to prevent an attack on Iran and even prepared to resign to do so.
Fallon and other military leaders are however unlikely to refuse a very limited strike that would be presented as a response to a specific incident in Iraq in which the deaths of US soldiers could be attributed to Iranian policy.
2007 October 18 - The Secret History of the Impending War with Iran
Two former high-ranking policy experts from the Bush Administration say the U.S. has been gearing up for a war with Iran for years, despite claiming otherwise. It'll be Iraq all over again. More: original , annotated.
2007 October - Russia Asserts Caspian Hegemony
Putin attended a conference of the Caspian Sea littoral nations (Russia, Iran, Kazakhstan, Turkmenistan and Azerbaijan). There or elsewhere he has recently said:
"We are saying that no Caspian nation should offer its territory to third powers for use of force or military aggression against any Caspian state," (a clear reference to long-standing rumors that the U.S. plans to use Azerbaijan, a former Soviet republic, for staging any possible military action against Iran.

that he saw no "objective data" to prove Western claims that Iran is trying to construct nuclear weapons.

"Threatening someone, in this case the Iranian leadership and Iranian people, will lead nowhere," Putin said Monday during his trip to Germany. "They are not afraid, believe me."

"The Caspian Sea is an inland sea and it only belongs to the Caspian states, therefore only they are entitled to have their ships and military forces here."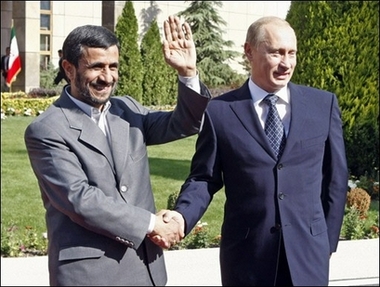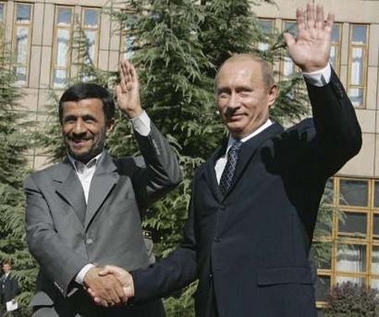 2007 Sept 27 - US, NATO and Israel Deploy Nukes directed against Iran
Michel Chossudovsky writes a detail-packed article with the above title. He says:
Wayne Madsen argues that the B-52 "mistakenly" carrying the advanced cruise missiles with bunker buster nuclear warheads was in fact destined for the Middle East.

Madsen says that the operation of shipping the nuclear warheads was aborted "due to internal opposition within the Air Force and U.S. Intelligence Community".

Turkey has some 90 B61 tactical nuclear weapons which are fully deployed.
References: Chossudovsky, Madsen
2007 Sept 6 - Israeli Jets over Syria
The actual events of September 6, 2007 may have been an interrupted Israeli raid on the Iranian nuclear weapons facilities using tactical nuclear weapons. This raid may not have been authorized by the top levels of the Israeli political system (or in other words, it may have been a rogue operation.)
Ridiculous, right? Well, go read the last 5 paragraphs of this. Then, if the above begins to seem possible, cycle back up into the article to see the facts and evidence that led this guy to such a conjecture.
2007 Aug 18 - Iran's Islamic Revolutionary Guard Corps has become a Likely Target
Time/CNN reports that:
The IRGC, having been placed on the terrorism list for supplying Iraq insurgents, is a likely target of a quick strike.

And, since bombers and missiles are in the air, we will likely hit Iran's nuclear facilities.
2007 July 26 - Iran Will be Using its Nuclear Power Plant - Soon
Iran expects to have nuclear power next year. (Either early next year or late next year depending on who you listen to.) Russia has resumed technical support to get this done. This means:
We are getting payback for ringing Russia with missiles.

An attack on Iran after the plant is operational will imply more casualties and even greater international condemnation.
2007 July 26 - B-2 with Bigger Bunker Busters - Soon
B-2 Stealth Bombers will get new bomb racks that can hold/deliver two 30,000 pound bombs.
These Massive Ordnance – Penetrator (MOP) bombs are intended to bust bunkers like the ones Iran has and is extending. These bombs have 5,300 pounds of explosives: most of the total weight, 30,000 pounds, is hardened steel!
The 7 month contract was signed June 1, so early in 2008 our executive branch will give itself a non-nuclear option for taking out Iran's underground nuclear facilities.
At the end of this very lucid 3 minute video on busting bunkers is a description of how these MOPs might be used:
2007 July 17 - Buildup in the Gulf – Way beyond what we need to get out.
More and more watchful people think they see an attack on Iran. This guy here sees:
Almost half of the US's 277 warships are stationed close to Iran.

Air Force buildup in Iraq far exceeds what's needed to support the ground troops and surge.

Some specifics on B1-Bs, F-16C Fighting Falcons, and A-10 Warthogs.
2007 June 15 - The Escalator to War
Air strikes on camps of the Iranian Revolutionary Guard?

Tehran retaliates.

President Bush will then have his casus belli to take out Nantaz and all the other Iranian nuclear facilities, as the Israelis and the neocons have been demanding that he do.
Details here.
2007 June 3 - Reuters Reveals Bias
Reuters repeats once again the totally discredited "wipe off the map" phrase! In fact, Reuters manages to introduce a new distortion: "bring an end to Israel" instead of something about witnessing destruction of the Zionist regime".
More on the Reuters article here.
2007 May 27 - Iran Sliding out from Under the Dollar
"About 70 percent of our oil export income is now in currencies other than the U.S. dollar," Hojjatollah Ghanimifard, international affairs director of the state-owned National Iranian Oil Company (NIOC), told Reuters.
2007 May 9 - Is the US About to Attack Iran?
"It sure looks like it." Here is antiwar.com calling our attention to non-crackpot sources that say so.
2007 April 1 - Iran Reciprocates; Blair Escalates
Fifteen British soldiers were taken by Iran. They were in a rigid inflatable about 2,500 miles from England and about 15 miles from Iran. Arguably, this was i) reciprocation for the taking of Iranian 'diplomats' in Iraq and ii) blowback for the abduction of Iranian officers while abroad in Turkey and elsewhere.

The clear red line drawn on the map produced by the Ministry of Defence is not agreed or recognised by any international authority. At best it represents the rule-of-thumb notion of a median line between the two coasts.

Tony Blair's remark that he is 'utterly certain' the incident took place within Iraqi territorial limits goes well beyond what can be honestly said about this situation.
2007 March 23 - Navy Lacks Plan to Defend Against 'Sizzler' Missile
The U.S. Navy, after nearly six years of warnings from Pentagon testers, still lacks a plan for defending aircraft carriers against a supersonic Russian-built missile, SS-N-27B.

China has these. Iran may possibly have some. The SS-N-27B/SIZZLER derives from the SS-N-22/SUNBURN.
More.
2007 February 21 - US Preparations for Invading Iran are Complete
It's called "Operation Iranian Freedom" or TIRANNT (Theatre Iran Near Term) or something.

Contrary to earlier indications, the attack may: 1) be much more than an aerial bombardment, 2) not involve any nuclear explosions, and 3) include a ground invasion by US troops.

Two carriers in the region, the USS John C Stennis and the USS Dwight D Eisenhower, could quickly be joined by three more now at sea: USS Ronald Reagan, USS Harry S Truman and USS Theodore Roosevelt, as well as by USS Nimitz. Each carrier force includes hundreds of cruise missiles.

In addition, marines have the USS Boxer and USS Bataan carrier forces in the Gulf and probably also the USS Kearsarge and USS Bonhomme Richard. Three others, the USS Peleliu, USS Wasp and USS Iwo Jima, are ready to join them. Earlier this year, HQ staff to manage these forces were moved from Virginia to Bahrain.
2007 February 11 -
New York Times Goes with Bogus Iran Weapons Charges

Completely Implausible Numbers are Thrown Around

Repeat of the Judy Miller/New York Times Deception
2007 February 4 - Situation Summary




2007 January 30 -
The United States could use its two air force bases in Bulgaria and one at Romania's Black Sea coast to support an attack on Iran in April, says the Turkish Daily News. Details
2007 January 15 - Situation Summary





2007 January - "reduce the risk of radioactive fallout"



See this little movie to get an idea how likely we are to "reduce the risk of radioactive fallout".

2007 January 7 - Jerusalem Post on 'Nuke Iran' Plans



Israel officials refused to comment on, or deny, the Jan 7 Sunday Times 'nuclear' report (see below).

Notice the attention paid to the 'Iranian Threat' by this newspaper:

The Jerusalem Post article is in a section of its website titled 'Iranian Threat'. The 'Iranian Threat' section has equal prominence with about 25 major divisions such as 'Opinion', 'Business', 'International', 'Sports', and 'Middle East'. However only one section, 'Iranian Threat', is red: all the others are blue. (Update: On July 14, 2007, the 'Iranian Threat' section has been changed to blue.)




2007 January 6 - Tactical Nuke Trial Balloon



Israel's plan to destroy Iran's uranium enrichment facilities with tactical nuclear weapons has been leaked.
Conventional laser-guided bombs would "tunnel" toward each target.

Tactical "Mini-nukes" with yield dialed to as little as one kiloton would then immediately be fired into the tunnel, exploding underground to reduce the radioactive fallout.
Three sites south of Tehran are named: Nantaz, a uranium conversion facility near Isfahan, and a heavy water reactor at Arak.




2006 November 9 - Status



The antiwar US election sweep, the sacking of Rumsfeld, the probable withdrawal of John Bolton as ambassador to the UN, and the backpedaling by many neocons reduced the likelihood that the buildup documented below will soon culminate in an attack on Iran. However, continue to watch for an incident like the August, 1964 Gulf of Tonkin incident 1, 2 or the sinking of the USS Maine 1 , 2 . This source thinks "war is scheduled to start between February and April of 2007". (See last sentence.) Somewhat after the elections but keeping the inevitable temporary spike in oil prices from affecting the 2008 presidential elections.




2006 October - Massive Sea and Air Power



Three US naval Strike Groups will be in place opposite Iran in the Persian Gulf and Arabian Sea by October 21. Guided missile destroyers, ..... MASSIVE. Specifics here.

So now might be a good time to refresh one's memory about "false flag" incidents.


2006 Dec 07 - US to attack Iran by 2008



"It is more likely than not, in the next two years, that President Bush and Vice President Cheney will direct an attack on Iran", Daniel Ellsberg said at a news conference for the Right Livelihood laureates in Stockholm on Wednesday.

Ellsberg is of four recipients of this year's $273,000 'Right Livelihood Award', often dubbed the "Alternative Nobels".

Ellsberg, 75, was honoured with the prize for leaking the so-called Pentagon Papers, which indicated the US government had deceived the public about whether the Vietnam war could be won and the extent of casualties, and for his continuing efforts to expose government deception worldwide.

"Don't do what I did, don't wait until the war has started before you tell the truth with documents.", Ellsberg urged Washington insiders.




2006 Oct 16 - Nuclear Strike Is Still on the Agenda
The Iran war is likely to start with selected bombing of a few Iranian facilities such as Nantaz.

The low-yield earth penetrating nuclear weapons used reach (a little) deeper than conventional weapons and will be justified on that basis.

We will threaten Iran with a massive attack if it responds to such a bombing.

When Iran responds, this Iranian "aggression" against the U.S. will justify the claim that Iran has "chosen" war.

Once war with Iran has started, there will be plenty of incidents to "justify" the use of additional nuclear weapons.

The nuclear taboo will at this point be erased: the massive half-century US investment in nuclear weaponry will now be perceived to finally have some 'usable' payoff.

Once the U.S. has used its nuclear weapons against a non-nuclear signatory of the Nuclear Non-Proliferation Treaty (NPT), the NPT will fall apart.

Many more countries will strive to develop and test nuclear weapons, overtly or covertly. In time, they will feel entitled to use their nuclear weapons against nuclear and non-nuclear adversaries.
Why is this happening??
The American public has no stomach for a draft nor large losses of American military personnel. US financial resources are strained.

Recognizing this, Rumsfeld's overarching objective has been a dramatic "downsizing" of the military.

He and others in the Project for a New American Century (PNAC) imagine that we will be able to wage war "on the cheap," without the loss of American life, to achieve policy objectives like extending US hegemony (disguised as a "PAX Americana") or a lower price of oil.
More here.


2006 Sept 26 - Why Bush Will Nuke Iran
The neoconservative Bush administration will attack Iran with tactical nuclear weapons, because it is the only way the neocons believe they can rescue their goal of U.S. (and Israeli) hegemony in the Middle East.

Bush seems incapable of recognizing his mistake in attempting this goal, and so sees escalation as a necessity.

An ascendant strain of administration thinking concludes that the cost of our nuclear arsenal is unreasonable unless we show willingness to use it and that Iran is a good place to demonstrate that willingness.

Revised U.S. war doctrine concludes that tactical or low-yield nuclear weapons cause relatively little "collateral damage" or civilian deaths, while achieving a powerful intimidating effect on the enemy.
Full article here.


2006 Sept 19 Israeli Expert: Attack on Iran Would Have to Involve Nukes




2006 Sept 14



Neocon Charles Krauthammer argues for a preemptive aerial attack on Iran's nuclear facilities. He enumerates costs of the attack and then the costs of doing nothing, which he suggests are equal if not greater. He concludes that the decision is no more than a year away.

2006 Sept 2 -



News columnist Michael Coren of the Toronto Sun said:
"something revolutionary has to be done within months -- if not weeks -- ...................... a limited and tactical use of nuclear weapons to destroy Iran's military facilities and its potential nuclear arsenal."

2006 August 23 -



The chairman of the House Permanent Select Committee on Intelligence, Peter Hoekstra of Michigan, released a brochure titled "Recognizing Iran as a Strategic Threat: An Intelligence Challenge for the United States".

Within the title and likewise within the document is the cart-before-the-horse thinking: We know Iran is about to nuke somebody -- we just don't have the evidence.
An opinion piece by the The New York Times calls it "garishly illustrated and luridly written".

On Sept 14, a senior aide to IAEA chief Mohamed ElBaradei sent a letter to Hoekstra saying that parts of the report are "outrageous and dishonest". The letter also said the report contains "erroneous, misleading and unsubstantiated information."

It is not a product of any intelligence agency. (It says "... we invited the U.S. Intelligence Community to provide its input on the report.")

It is not a product of the full House Permanent Select Committee on Intelligence.

It is not even a product of the full Subcommittee on Intelligence Policy, though the brochure's initial page claims that it is.

The 7 Policy Recommendations it offers are relatively uncontroversial. We are nowhere near meeting these recommendations. Yet the Conclusion offered is that Iran is a Serious Security Threat. These guys are not the concluders (except about Intelligence Policy) (any more than you or I) and their Recommendations would not be needed, if their Conclusion were in fact established.

2006 August 21 - US Helped Plan Lebanon War as Precursor to Iran
This war would be a demo for how the US can attack Iran.

It would eliminate the ability of Iran to strike back after being attacked by encouraging Hezbollah to attack Israel.

"....intelligence about Hezbollah and Iran is being mishandled by the White House the same way intelligence had been when ... the Administration was making the case that Iraq had weapons of mass destruction. ... all of the important stuff is being sent directly to the top—at the insistence of the White House—and not being analyzed at all, or scarcely .... It's an awful policy and violates all of the N.S.A.'s strictures, and if you complain about it you're out ......... Cheney had a strong hand in this.""

"There is no way that Rumsfeld and Cheney will draw the right conclusion about this ..... When the smoke clears, they'll say it was a success, and they'll draw reinforcement for their plan to attack Iran."

In case you're not sure who won, see this dramatic video.

On the other hand, with the hindsight of May 9, 2007, T. Friedman argues that an Arab League Commission would find Hezbollah's leader, Hassan Nasrallah, guilty of a serious failure of judgment, responsibility and prudence.

2006 June 10 - Trapping Iran with a Tripwire

Here's the plan.
We get Iran to stop enrichment by offering carrots (like Clinton did with North Korea in 1994).

We find that Iran has violated the Agreed Framework (like Bush did with North Korea in October 2002).

We nuke them.
Absurd? Spend some time with the reference, and see if you still think so.
2006 April – Paper: Osirak Redux?

A very well researched and highly regarded study "Assessing Israeli Capabilities to Destroy Iranian Nuclear Facilities" here.

2005-2006 - Iran May try to Wipe Israel off the Map
It continues to be all over the Internet that, at a conference in Tehran, Ahmadinejad said he wants to "wipe Israel off the map" or "Israel must be wiped off the map" or "the occupying regime must be wiped off the map" or " 'annihilate' Israel"

Reverberating into late 2007, the president of Columbia U. transmogrified this into "Do you plan on wiping us off the map too?"

Whatever Ahmadinejad said, he said in Farsi. So 3 things that he didn't utter are:

"Wipe"

"Map"

"Wipe off the Map" (An English idiom)

Turns out he didn't say it himself: he said somebody (an Imam) else said it.

Turns out that he apparently didn't refer to geography and space ("map") but rather to time or history.

He didn't say that everybody in Israel should be vaporized, he said he wants something ended.

Turns out that what he argues for is more like regime change .

And it's not as if Iran were alone: something like 34 countries, including Taiwan, don't recognize Israel as a legitimate nation!

He probably was calling for something like merging the West Bank, Gaza, and Israel -- and maybe calling it Palestine.

This is more like what he said: The Imam said that this regime occupying Jerusalem (een rezhim-e ishghalgar-e qods) must vanish from the page[s] of time (bayad az safheh-ye ruzgar mahv shavad).

Word for word, it was this: Imam (Khomeini) ghoft (said) een (this) rezhim-e (regime) ishghalgar-e (occupying) qods (Jerusalem) bayad (must) az safheh-ye ruzgar (from page of time) mahv shavad (vanish from).

Again, this is a good but somewhat lengthy, item to read if you want facts one doesn't find in mainstream US media. This thoughtful source, also available here, gives the whole Ahmadinejad speech transcript. The speech and its context are also summarized in English, which is a lot more than you've likely hitherto been able to access. For those who want to know!
So most of the reporting on what was said at this conference is not an effort to get at the exact truth: it is more about demonizing this guy.
In this Symposium on Ahmadinejad's Armageddon, we find "The Iranian Mullahs either already have, or will very soon be in possession of, nuclear weapons."

Or you can find a long list of inflammatory English language statements here in this Farsi-speaker's "own words".

Or you can consider this: If you read the Iranian constitution, you'll see that the president of Iran is almost a figurehead. The true power in Iran rests with the Supreme Leader. The Supreme Leader is the Ayatollah Khamenei. He is supported by an organization called the Guardian Council. Then there's another group called the Expediency Council. These are the people that control the military, the police, the nuclear program, all the instruments of power. The Supreme Leader issued a fatwa that says that nuclear weapons are not compatible with Islamic law (the Shia belief system for which he is responsible). In 2003 he actually reached out to the Bush administration via the Swiss embassy and said: We would like to normalize relations with the United States; We'd like to initiate a process that leads to a peace treaty between Israel and Iran.

2006 May 19 - Iran Requires Visible Marking of non-Muslims
According to Canada's National Post, the Iranian Parliament passed a law requiring that Jews would have to sew a yellow strip of cloth on the front of their clothes, while Christians would wear red badges and Zoroastrians would be forced to wear blue cloth. Rabbi Marvin Hier of the Simon Weisenthal Institute immediately responded: "This is reminiscent of the Holocaust. Iran is moving closer and closer to the ideology of the Nazis." To see how distorted this visible marking thing is, go here. or here.

Expect more stories like this about the evilness of Iran in the coming months.

Conversely, don't expect much play for a story like this (Iran said it was pleased about the death of al-Qaeda in Iraq leader Abu Musab al-Zarqawi.) or a story like this (Iran offered the US a package of concessions in 2003, but it was rejected by Cheney's office though the State Department was 'keen' on the plan.).
2006 May 7 - Iran Oil Bourse will use Euros, not Dollars
Previously due to be opened before the beginning of the Persian New Year on March 21, Iran now expects to start the initial phase of its planned Iranian oil bourse at the end of September.

The International Petroleum Exchange in London and the New York Mercantile Exchange, on which oil is currently traded, both use the dollar. The Iranian Oil Bourse (trading exchange) will use Euros, not dollars. Since this reduces the need for dollars as a medium of exchange, owners of the now-unneeded dollars will try to use them as a store of value by buying something, with a resultant increment of inflation.

2006 May 04 - You're Fired
On May 4, 2006 Tony Blair fired Jack Straw (and other senior ministers in a major cabinet reshuffle after the Labor Party's poor showing in local elections that were widely seen as a referendum on Blair's government). See "completely nuts", below.

Here is the argument that Straw was "effectively dismissed by an American President" after concerns were voiced by Condoleezza Rice and/or Donald Rumsfeld.

2006 April 17 - Grand Theft Babylon: The Heist of the Century
If unchecked, Iran could muscle out agreements, so lucrative they amount to theft and probably in preparation since before we invaded Iraq, between Anglo and American Oil Companies and Iraq.

2006 April 10 - The Iran Plans (by Seymour M. Hersch in The New Yorker)
Ahmadinejad......Bush and others in the White House view him as a potential Adolf Hitler

"There's no pressure from Congress" not to take military action, the House member added. "The only political pressure is from the guys who want to do it."

that the Administration can achieve its policy goals in Iran with a bombing campaign ..... has been supported by neoconservatives. [ Bigtime. Much of the April 24, 2006 print edition of the Weekly Standard is in support. ]

2006 April 09 - Completely Nuts

2006 April 4 - US Strike on Iran: it's when, not whether
the U.S. strike against multiple targets in Iran is positively in the pipeline; only its date remains uncertain

the U.S. strike against Iran will likely occur between Labor Day (Sept. 4) and election day (Nov. 6)

2006 Feb 20 - We will nuke Iran.
"Whether or not tactical nuclear weapons should be deployed and used against Iran is a matter that needs to be faced by America right now!"

"All the elements have been put in place carefully and methodically for the U.S. to use tactical nuclear weapons against Iran in a way that will seem "acceptable" at first sight ..."

"The principal responsibility for what is about to happen will be assigned to the military." "This shameful approach of shifting responsibility from the policymakers to the commanders on the ground will be an essential element in the nuking of Iran."

"Attacking Iran with nuclear weapons, no matter how small, is evil for the following reasons:...."

"The mission of Los Alamos National Laboratory, where nuclear weapons are developed, used to be described officially as "Los Alamos National Laboratory's central mission is to reduce the global nuclear danger" . That will sound ridiculous once the U.S. starts throwing mini-nukes around. In anticipation of it, the Los Alamos mission statement has been recently changed to "prevent the spread of weapons of mass destruction and to protect our homeland from terrorist attack"."

2006 Jan 3 - Nuclear War Against Iran
The launching of an outright war using nuclear warheads against Iran is now in the final planning stages.

Coalition....the US, Israel and Turkey

....endorsed by NATO..........

"low yielding" mini-nukes have an explosive capacity as much as one third of a Hiroshima bomb (15 kilotons). (The term mini-nuke refers to sub- or only a few kiloton yields. It tends to mean nukes of less than 5 kilotons in part because of the Spratt-Furse Law on Mini-Nuke Development .)

The yield of the "dial-a-yield" ("DAY") B61-11 can be anywhere from 0.3 to 300 kilotons.

The earth-penetrating capability of the [nuclear] B61-11 is...only 20 feet or so into dry earth when dropped from an altitude of 40,000 feet. ..........Any attempt to use it in an urban environment...would result in massive civilian casualties.

2005 May - Backgrounder on Earth Penetrating Weapons
First see a very lucid 3 minute must-see video on earth penetrating weapons.
From this scientifically accurate web page (with references) we find that:
The United States reportedly stockpiles about fifty B61-11 nuclear EPWs, ... dropped from aircraft.

This bomb .... reportedly has a variable yield, from 0.3 to 340 kilotons.

It reportedly can penetrate two to three meters in frozen soil.

For a penetration depth of three meters and a yield of 0.3 kilotons, the B61-11 could destroy a target buried under roughly 15 meters of hard rock or concrete.

For a penetration depth of three meters and the maximum yield of 340 kilotons (~20 Hiroshimas!), the destruction depth would be no more than roughly 70 meters, for a hardened target.

2004 Dec - Debunking the nuclear "bunker buster"
Bunker-busting nuclear weapons are a wasteful and dangerous delusion.

The RNEP (Robust Nuclear Earth Penetrator) represents the unproven power of a class of unworkable weapons to bully other countries into abjuring any action at all deemed offensive by the United States.

If we are developing nuclear weapons that our government says we might use, there is no incentive for smaller countries not to go after their own weapons as quickly and quietly as possible—down in the very bunkers we are unable to destroy.

2004 Oct 26 - A US Naval Disaster?
The United States has been eclipsed in an important area of military technology.

The Russian-made mach-1.5 3M-82 Moskit anti-ship cruise missiles (NATO designation: SS-N-22 Sunburn) [is] a weapon for which the US Navy at one time had no defense.

The rugged northern shore of the Persian Gulf makes for easy concealment of..mobile missile launchers. (Saddam Hussein's mobile Scud launchers proved difficult to detect and destroy - over and over again the Iraqis fooled allied reconnaissance with decoys. Scud launches continued until the last few days of the conflict.)

The Sunburn is a sea-skimmer. It was designed to defeat the US Navy's Aegis radar defense system by cruising just above the water, i.e., below radar. In its final approach the Sunburn also makes violent end-manoeuvres to defeat close-in defences. One Sunburn missile can sink or disable any ship in the US Navy.

An August 2003 discussion suggests that the Raytheon SeaRAM anti-ship missile defense system claims to close the advantage of the SSN22 Sunburn.

"There is an even more advanced missile - the Yakhonts - which Iran most likely has. It has a far greater range and speed and is optimized to take out aircraft carriers. It can actually tell which of a flotilla of ships is a carrier and lock in on it from a range of 200 miles." The mach-2.5 Yakhonts reportedly has been optimized for use against large carriers. SS-NX-26 Yakhonts mach-2.9l?
2001 Jan / Feb - Low-Yield Earth-Penetrating Nuclear Weapons
"....the B61-11 .... Tests show it penetrates only 20 feet or so into dry earth when dropped from an altitude of 40,000 feet."

Figure 5 shows pictorially "Crater Formation As A Function of Depth Of Burial". "Even a 0.1 KT burst must be buried at a depth of approximately 230 feet to be fully contained."

"..... it is simply not possible for a kinetic energy weapon to penetrate deeply enough into the earth to contain a nuclear explosion."

shallow nuclear explosions produce especially intense local radioactive fallout.

.........these warheads ........ to attack deeply buried facilities........this mission does not appear possible without causing massive radioactive contamination. "No American president" [except Bush?] "would elect to use nuclear weapons in this situation — unless another country had already used nuclear weapons against us."
---
Odds Are:
On March 22, 2008,
betting odds of "USA and/or Israel to execute an overt Air Strike against Iran by 31 Mar 2008" are about 1.5%.
but betting odds of "USA and/or Israel to execute an overt Air Strike against Iran by 31 Dec 2008 " are about 25%.
Go here.

Click on the THE PREDICTION MARKETS | Current Events.

Click on Iran.

The 'Last' price on the right can be taken as a liklihood.

Click "AIRSTRIKE.IRAN.DEC08"or similar, to see how this liklihood has varied over the life of the contract.
---
This page assembled by: Frederick N. Chase